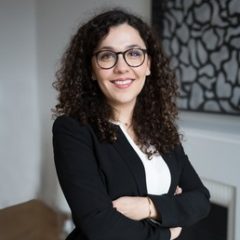 Anaëlle Idjeri
Member of the Lyon Bar
Expertise
Anaëlle practices primarily in business law, commercial law and international contracts. She acts both as advisor and litigator.
She assists French and foreign companies operating in a wide range of industries on all legal and regulatory issues likely to arise in connection with their business operations and relationships (contracts, distribution, unfair competition, consumer law related matters, etc.), and defend their interests before commercial and civil courts.
Anaëlle also represents and defends clients in ad hoc arbitration proceedings and internal or international arbitration proceedings before various French and foreign institutions.
Selected Operation Summary
Litigation and Arbitration
Represented and defended a foreign manufacturer of spirits during pre-litigation negotiations and in court in a dispute for sudden termination of business relationships
Represented and defended a foreign company in ICC arbitration proceedings relating to the breach of a contract for the supply of military equipment
Assisted and advised a dismissed manager in the context of a conflict between partners in the funeral industry
Represented and defended a French company in ad hoc arbitration proceedings relating to the revision of the oil price of a contract concluded with a foreign group
Represented and defended foreign companies in disputes relating to non-performance of subcontracting agreements in the building and construction industry
Represented and defended a foreign company in ICC arbitration proceedings relating to the installation and operation of photovoltaic panels
Assisted and advised a distributor of plant protection products in a defective product liability case
Business Law and International Contracts
Counseled French and foreign businesses operating in various industries, such as the wine making, robotics, automotive, chemistry and digital industries, in connection with the preparation and negotiation of commercial, distribution and industrial contracts
Assisted and defended French and foreign economic operators operating on various markets, including, but not limited to, the financial, alcoholic beverages, car manufacturing, photovoltaic and chemistry industries, in pre-litigation and litigation cases for abusive and/or sudden breach of business relationships
Compliance
Assisted French and foreign companies in preparing and ensuring compliance of their commercial and pricing policies with applicable French law requirements (general terms of sale, terms of payment, invoicing and billing policy, etc.)
Assisted an industrial group operating in the agrochemical industry in the preparation of an anti-corruption program
Events
webinar on "Critical issues in distribution agreements" organized in the framework of the Series of technical workshops for international expansion of the ICC Lyon Metropole, May 6, 2021.
Webinar on "Contracts and COVID-19: Force majeure and hardship" organized by the International In-House Counsels Club of the ICC Lyon Metropole, December 2020
Publication
Getting the Deal Through: Government Relations, Law Business Research Ltd., 2021
Article entitled "Principio de igualdad y deber de revelación de los árbitros: Nuevas contribuciones de la Chambre Commerciale Internationale à la Cour d'Appel de Paris» published in La Ley Mediación y Arbitraje periodical (April-June 2021, n° 05)
Article entitled "El deber de revelación y la independencia del árbitro: Primeras contribuciones de la Sala de Comercio Internacional del Tribunal de Apelación de París (Sentencia de la Cour d'appel de París (CCIP) de 25 febrero 2020)", published in La Ley Mediación y Arbitraje periodical (January-March 2021, n° 05)
Getting the Deal Through: Government Relations, Law Business Research Ltd., 2020
Background
Shearman & Sterling, International Arbitration Department, 2016 (internship)
Orrick Herrington Sutcliffe, International Arbitration Department, 2016 (internship)
TOTAL S.A., Legal Department, Major Litigation, 2015 (internship)
Dechert, International Litigation and Arbitration Department, 2014 (internship)
Winston & Strawn, Corporate – Commercial, 2012 (internship)
Cremades & Calvo-Sotelo (Madrid, Spain), 2011 (internship)
Education
Postgraduate Degree in International Arbitration and Business Law, University of Versailles Saint-Quentin-en-Yvelines, 2014-2015
Postgraduate Degree in European Business Law, University of Lorraine (Nancy II) – Exchange student at University College Dublin (Ireland), 2012-2013
Master's Degree in International and European Business Law, University of Lorraine (Nancy II), 2010-2013
Preparatory Class to the Ecole Normale Supérieure Cachan Option D1 (eligible to the Ecole Normale Supérieure), University of Aix-Marseille III, 2008-2010
Languages