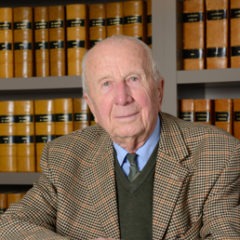 Christian Gabolde
Former member of the Council of State
Expertise
Procurement Contract litigation
Doctor of Law, Christian graduated from the prestigious Ecole Nationale d'Administrationand became over the years one of the finest specialists in French Administrative Law.
During his long professional career, Christian notably served as President of the Administrative Court of Caen, President of the Regional Institute for Public Administration of Lyon, President of the Administrative Court of Lyon and member of the Council of State, i.e. France's Administrative Supreme Court.
Christian has acquired substantial expertise in dispute resolution of procurement contracts (liability of the project owner and construction manager, etc.) and has extensively practiced environmental law. He has, in particular, in-depth knowledge of environmental regulations pertaining to so-called classified facilities for the protection of the environment, a legal topic for which he remains to date one of the best French specialists.
Christian works closely with the members of the firm as a consultant in administrative and environmental law matters.
Christian has contributed to many legal publications regarding administrative and environmental law, written many legal columns and issued a large number of written commentaries on the evolution of French case-law. He has authored several books, including two reference books, the first one on French administrative procedures, and the second one on the legal status of classified facilities.
Selected Operation Summary
Assisted a European energy leader in a dispute relating to defects on immovables located within a nuclear power plant
Assisted and defended companies operating in the chemical and agrochemical industries in summary proceedings and proceedings for annulment in relation to classified facilities before administrative courts
Defended the interests of distributors of pest control products for agricultural use in proceedings before administrative courts
Participated in the preparation of a framework agreement between the state and the market leader in the management and disposal of national plant protection products
Assisted several Premier League French football clubs before administrative courts in connection with appeal procedures against decisions of the French Football Federation
Background
Soulier Avocats, Of Counsel, since 1992
Soulier Avocats, 1988-1992
Member of the Council of State, 1982 – 1988
President of the Administrative Court of Lyon, 1975-1982
President of the Regional Administration Institute, Lyon, 1970-1975
President of the Administrative Court of Caen, 1968-1970
Counselor, Administrative Court of Caen, 1954-1968
Main Publications
Encyclopédie Pratique du Contentieux Administratif, co-author, Dalloz editions
La Procédure des cours administratives d'appel et des tribunaux administratifs, Dalloz editions, 1997
Les Installations classées pour la défense de l'environnement, Sirey editions
La procédure des tribunaux administratifs, Dalloz editions
Traité de procédure administrative contentieuse, Dalloz editions,
Traité des établissements dangereux, incommodes et insalubres, Sirey editions
Manuel formulaire de la procédure suivie devant les tribunaux administratifs, Dalloz editions
Member of editorial board of the Cahier sociaux de Paris, since 1988
Credentials and Decorations
Former lecturer on administrative law, University of Lyon 3
Former lecturer, Faculty of Law, University of Caen
Former lecturer, University of Savoie
Knight of the National Order of Merit
Member of the Legion of Honor
Knight of the Ordre des Palmes Académiques
Knight of the Mérite Agricole
Education
Ecole Nationale d'Administration
Doctor of Law
Honor Graduate, School of Political Sciences
Honor Graduate, Upper Administrative Duties Center
Languages