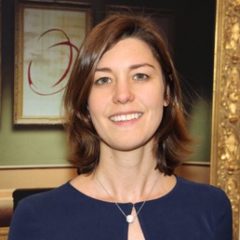 Emilie Ducorps-Prouvost
Member of the Paris Bar
Expertise
Emilie is specialized in labor law and advises French and foreign corporate groups on all employment related issues.
Her practice focuses on national and transnational corporate reorganizations and restructuring transactions, transfers of employees, collective lay-off plans, voluntary separation plans, collective negotiated termination of employees, and she manages employment issues associated with corporate deals, including labor due diligence.
Emilie also advises companies in connection with information/consultation procedures with employee representative bodies, provides legal assistance in the preparation and implementation of collective bargaining agreements and counsels businesses on workplace harassment, discrimination, management and prevention of psychosocial risks and, more generally, on all issues related to health and safety at work. She also assists businesses and corporate officers in order to secure the implementation of means to monitor employees' activities as well as in the preparation of business codes of conduct.
Lastly, Emilie is highly experienced in (individual and collective) employment and social security litigation
Selected Operation Summary
Advised French and foreign groups operating in various business sectors (healthcare facilities, chemistry, metallurgy, water and sanitation, engineering, consulting, IT services, internet, sports, etc.) on corporate reorganizations and restructuring transactions, including due diligence, compliance audit, assessment of financial risks, preparation of collective redundancy plans, voluntary separation plans, collective negotiated termination of employees, and transfers of employees under Article L 1224-1 of the French Labor Code
Managed the relationships between companies and salaried managing directors ("dirigeants salariés") and/or corporate officers ("mandataires sociaux") (drafting of the employment agreement or the corporate officer agreement, negotiation of the remuneration) and negotiation of termination packages
Drafted services agreements on behalf of French and foreign corporate groups (addressing the issues of concealed employment, illegal supply of employees and illegal subcontracting of labor)
Provided legal advice, prepared and adapted remuneration policies, bonus plans, employee savings and employee stock ownership plans to ensure compliance with French law
Structured chains of delegation of authority on behalf of and within several French and foreign groups
Counselled and represented French and foreign groups in disputes concerning the breach of non-compete clauses, unfair competition practices, illegal poaching of employees and violation of trade secrets
Assisted French subsidiaries of international groups in implementing compliance policies (data protection and privacy issues), including preparation of computer and Internet use policies, business codes of conduct and whistleblowing procedures
Assisted French and foreign industrial groups in implementing psychosocial risk prevention policies (addressing various issues related to health and safety at work) and preparing appropriate action plans and the so-called "Document Unique d'évaluation des risques professionnels" (occupational risk assessment sheet)
Assisted foreign groups (operating in the pharmaceutical, medical device, nutrition, wholesale, etc. industries) in connection with claims from independent contractors seeking the recognition of an employee status
Represented French and foreign companies before French labor courts and social security courts (dismissal, reclassification of employment contracts, judicial termination, inexcusable conduct, etc.)
Background
Latham & Watkins LLP – Paris, France, 2004 – 2011
Main Publications
L'intelligence artificielle va-t-elle bouleverser la relation de travail ?, Actuel RH- Editions Législatives, August 2019
Global Comparative Guide Labour & Employment, Mondaq, to be released in 2019
Global non-compete Guide, World Law Group, 2018
Labor law and the challenges of Artificial Intelligence: 1st, 2nd and 3rd parts of a trilogy, Mondaq, 2018
La mise en jeu de la responsabilité de la société-mère étrangère et la compétence du juge du travail françaisActuel RH- Editions Législatives, April 2017
Establishing a Business in France, Practical Law, 2015
Establishing a Business in France, Practical Law, 2014
WLG Global Guide to Whistleblowing Programs, World Law Group, 2012
L'avenir de l'organisation du travail des cadres : vers un développement du télétravail ?Entreprise & Carrières, July 2012
Credentials
Co-led a conference on Brexit (International mobility of labor and business immigration issues) in partnership with Faegre Baker Daniels LLP and Lazard Frères Gestion, March 2017
Co-led a breakfast meeting on the theme "Professional Gender Equality: where do we stand?", organized in collaboration with Alixio, a leading consulting firm specialized in social strategy and change management, March 2012.
Professional Associations
AVOSIAL (Association of French business lawyers specialized in labor and employment law)
The American Chamber of Commerce in France
Co-chair of the WLG Human Resources Law Practice Group (a practice group that brings together lawyers specialized in labor & employment within the World Law Group, an international network of independent leading law firms)
Education
Postgraduate Degree in Corporate Legal Advice – Employment certification, University of Strasbourg, 2003
Postgraduate Degree in Business Law, University of Strasbourg, 2003
Postgraduate French-German Degree in Corporate and Business, University of Strasbourg, 2003
Languages