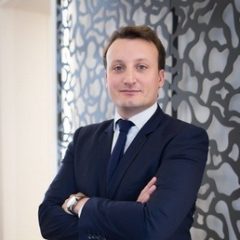 Geoffroy Lacroix
Member of the Paris Bar
Expertise
Geoffroy Lacroix focuses his practice primarily on business law and health law, and acts both as advisor and litigator.
He assists French and foreign companies from a wide range of industries in relation to their business dealings, including on "B2B" issues related to distribution and competition (setting up of distribution networks, practices that restrict competition, commercial negotiations, drafting of contracts, etc.) as well as on "B2C" issues connected with consumer law (unfair terms, online sale, etc.)
Geoffroy also provides legal assistance to health market operators on regulatory aspects related to their operations in France, as well as in product liability litigations.
Selected Operation Summary
Business law
Assisted and advised French and foreign companies in structuring and implementing distribution networks (commercial agency, selective and exclusive distribution network, franchise) as well as in preparing and ensuring compliance of commercial and pricing policies with applicable French law requirements (general terms of sale, general terms of purchase, terms of payment, invoicing and billing policy, etc.)
Counseled French companies and multinationals on restrictive competition practices related issues (significant imbalance, sudden breach of established business relationships, telemedicine, etc.)
Assisted and defended foreign economic operators in various industries, including, but not limited to, the automotive and pharmaceutical industries, in disputes related to abusive and/or sudden breach of business relationships
Assisted and counseled French and foreign economic operators, including pharmaceutical companies and automotive OEMs, in the preparation of industrial and commercial contracts (manufacture, supply, outsourcing, etc.)
Advised foreign companies on their obligations with respect to product safety (reporting of risks to the competent authorities, recall of products, etc.)
Health
Advised and assisted healthcare market players on the regulations applicable to their business activities, including, but not limited to, in connection with licensing and/or filing requirements imposed for the manufacture and sale of healthcare products, medical devices vigilance and pharmacovigilance obligations, relationships with healthcare professionals, etc.
Assisted and defended the French subsidiary of an international group specialized in the manufacture of medical devices in connection with several out-of-court procedures and legal proceedings related to product liability disputes
Assisted and represented health professionals in the exercise of their business activities
Background
Gide Loyrette Nouel AARPI, Economic and European Law Department, associate, 2009-2015
Clifford Chance, Litigation and Arbitration Department, trainee lawyer, 2008
Hermès International, Legal Department Business Law, trainee lawyer, 2007-2008
Salans (now Dentons), Competition Department, legal intern, 2006
August & Debouzy, Commercial Department, legal intern, 2006
Bricorama, Legal Department, legal intern, 2005
Main publications
WLG Merger Control Guide 2020, World Law Group Ltd., 2020
Getting the Deal Through: Government Relations, Law Business Research Ltd., 2020
Getting the Deal Through: Government Relations, Law Business Research Ltd., 2019
WLG Merger Control Basics, World Law Group Ltd., 2019
Getting the Deal Through: Government Relations, Law Business Research Ltd., 2018
Professional Associations
European American Chamber of Commerce
Education
LL.M in International Business Law, Anglia Ruskin University, Cambridge, UK, 2006
Post-graduate Degree in Business Law (with a specialization in Trade and Distribution), University of Burgundy, 2005
Master's Degree in Business and Tax Law, University Paris II Panthéon-Assas, 2004
Languages