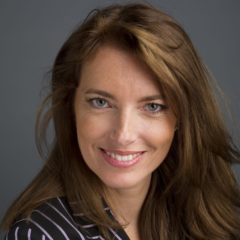 Sandrine Petoin
Member of the Paris Bar
Expertise
Holder of a specialized university degree in literary, artistic and industrial property law and drawing on almost 20 years of experience in this field as well as in business law, Sandrine assists and represents a French and foreign clientele comprising natural persons (including celebrities, entertainers, journalists, artists, models, influencers and independent contractors) and legal entities (in particular international groups, very small, small and medium-sized businesses operating a in a variety of business sectors, associations, training organizations, sports federations, trade union associations, etc.).
Thanks to this multidisciplinary background, Sandrine has a global and transversal vision of our clients' situation while providing cutting-edge expertise, in particular in terms of corporate strategy and national and international protection of intellectual property rights.
She provides legal consulting services (drafting and negotiation of contracts, legal advice and due diligence, filing of trademarks, etc.) and represent clients in pre-litigation and litigation phases, while promoting alternative dispute resolution methods (conciliation, mediation, out-of-court settlement, etc.).
Selected Operation Summary
Intellectual Property
Legal advice in connection with the protection of the trademarks of an international household goods group: Advice on the choice of new signs to be filed and filing strategy (proprietor/territory…), prior art analysis, filing of trademarks at the French, European and international levels, extension of protection and follow-up, trademark license agreements
Management of relations and conflicts in the TV and film industry involving authors (scriptwriter, director, etc.), production (associate, executive), distributor(s) and actors (with the producer and/or their agent)
Management of the litigation of a Japanese printer manufacturer and its French subsidiary (counterfeiting/infringements of trademarks, designs and models and patents protecting its cartridges following the sale of copies in stores and on the Internet and the free-riding of operators that marketed so-called "compatible" cartridges)
IT contracts: Software development, as well as maintenance and IT services contracts for a company in charge of the management of cash registers for a chain of stores
Media and Image
Legal advice and representation in connection with press offenses (complaints, direct summons and defense in defamation and insult lawsuits), involving, among others, journalists, political figures and media organizations
Legal supervision of a Miss' career for her activities as model, digital influencer and singer (ambassador agreements, partnership contracts and participation in TV shows)
Image right and privacy litigation (year-round representation of public figures and modeling agencies)
Defense of a TV channel in sanction proceedings initiated by the Conseil Supérieur de l'Audiovisuel (French Media Regulatory Authority)
Business Law
Defense and representation of a clothing company in a distribution law dispute against a supermarket chain following the massive delisting of its products in France and in Europe (action for compensation for the sudden breach of established business relationships)
Contractual assistance to a European vehicle rental company in order to integrate a two-wheeler rental business (general and specific European terms and conditions, long-term rental framework contract with the vehicle supplier, commercial partnership contract between the European rental company and the French two-wheeler rental company)
Defense and representation of a restaurant chain in a litigation with the DGCCRF (French General Directorate for Competition, Consumer Protection and Frauds)
Management of the closure of a metallurgical branch of activity in France (insolvency/bankruptcy proceedings)
Mixed Operations
Supervision of the launch of a B2B and B2C activity in France and abroad (chain of themed restaurants, beauty products, spa, jewelry/clocks, decoration, etc.):
protection of the copyrightable elements of the concept;
management of the brand portfolio (registration/filing following prior art analysis reports, international extension, transfer to the holding company, license to operators, etc.);
structuring of the activity within the group, with the creation of companies, companies, shareholders' agreement, amendments to the by-laws of existing entities, share capital increases and share transfers);
advice on the regulations applicable to the specific line of business or type of products, including validation of packaging and all documents available at the point of sale (point of sale marketing, menus, displays, flyers, etc.);
drafting or review of website contents (presentation texts, legal notices, general terms and conditions, cookies policy, GDPR clause, etc.);
contracts with partners (distribution contract / franchise agreement, etc.);
contracts with service providers (press agent, influencers, etc.).
Supervision of the development and diversification of an international group specialized in the sale of sports articles: Group contracts, brand license and distribution agreements, advice on games organized on social networks, in particular with regard to GDPR requirements
Management of the litigation of jewelry brands and a global watchmaking group, more particularly for its luxury brands (sale of branded products outside the network, in violation of a selective distribution contract and sale of products infringing copyright, designs and models)
Background
28 o c t o b r e, Paris, Counsel, 2013-2021
M&B Avocats, Paris/ Barcelona/ Madrid/ Montpellier/ Bordeaux, Senior Associate, 2005-2012
Destremau Avocats, Paris, Associate, 2003-2004
Credentials
Facilitation of regular legal workshops for the Télécom Paris incubator
Associations
BNI (Business Network International – 285,000 members in 77 countries and within 10,500 business networking groups)
Union des Jeunes Avocats (Young Lawyers' Union)
Initiadroit (presentations in high schools to raise legal awareness)
Education
Post-Graduate Degree in Literary, Artistic and Industrial Property, University of Paris II Panthéon Assas, 1999 (Professor Pierre-Yves Gautier)
Languages
French
English
Basic knowledge of Spanish