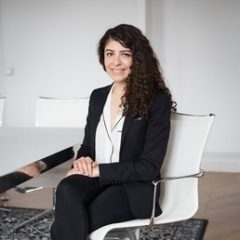 Sara Bellahouel
Member of the Paris Bar
Expertise
Sara specializes in labor & employment law and assists French and foreign companies and groups on all issues that may arise in connection with individual and collective labor relationships.
She also provides legal advice in connection with business and group reorganizations and restructurings (collective lay-off plans, voluntary separation plans, transfers of employees, etc.) and labor due diligences (compliance audits, due diligence investigations in M&A transactions, etc.).
Selected Operation Summary
Advised French and foreign groups operating in various business sectors (hotel business, catering trade, digital security technology, pharmaceutical industry, medical equipment, glassware, etc.) in connection with the merger or acquisition of companies or their branches of activity (share deals and asset deals): Drafting of the vendor and buyer due diligence reports, including assessment of financial risks
Advised French and foreign groups in various reorganizations and restructurings, raising notably the following issues (depending on the type of companies and reorganizations): Transfers of employees under Article L. 1224-1 of the French Labor Code, information/consultation procedures with employee representative bodies, prior information of the employees, harmonization of the individual and collective status
Advised French and foreign groups experiencing economic difficulties on corporate reorganizations and restructurings, notably in order to close down their French company or activity and to implement individual or collective lay-off
Advised a French group, worldwide leader in the organization of events, on the negotiation and the drafting of a group-wide collective bargaining agreement on variable remuneration for sales representatives and a voluntary profit-sharing agreement
Advised a French company operating in the French private equity market in the drafting of a company-wide collective bargaining agreement on working time (including provisions on forfait jours working time arrangement) and in the negotiation of this collective bargaining agreement without a union representative
Advised a French group operating in the hotel business industry in the assessment of the risks related to claims from independent franchisee contractors seeking the recognition of an employee status
Assisted French companies before French Labor Courts concerning claims on dismissals (on personal and economic grounds), requalification of a franchise contract into an employment contract, requalification of a fixed-term employment contract into an indefinite-term employment contract, judicial termination, etc.
Background
PwC Société d'Avocats, M&A Department, Neuilly-sur Seine, 2015-2016
Nossaman LLP, Environmental Litigation Department, Orange County (CA) USA, 2014 (internship)
Soulier AARPI, Labor and Employment Department, Paris, 2013-2015 (internship)
Professional Association
Education
Post-graduate Degree in Labor & Employment Law, University Paris 1 Panthéon-Sorbonne, 2018
Post-graduate Degree in Business Law, Corporate Counsel, University Toulouse 1 Capitole, 2018
Postgraduate Studies in Business Law, Arabic countries specialization, Sorbonne Law School (Paris 1 Panthéon-Sorbonne), 2013
Postgraduate Degree in International Business Law, Sorbonne Law School (Paris 1 Panthéon-Sorbonne), 2011
Postgraduate English Degree in Common Law, Sorbonne Law School (Paris 1 Panthéon-Sorbonne), 2011
Languages