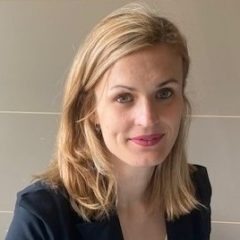 Claire Filliatre
Member of the Lyon Bar
Expertise
Claire focuses her practice on business law and contract law, both as advisor and litigator, as well as on compliance, white collar crime and press offences.
She assists French and foreign businesses operating in a wide range of industries primarily in preparing and negotiating all types of commercial and business contracts, general terms of sale and general terms of purchase, and securing their commercial and pricing policies and practices. She also advises companies operating in the IT industry in the drafting and negotiation of their contracts (software license agreements, maintenance agreements).
Claire defends the interests of our clients in complex prelitigation and litigation cases pertaining to various areas of business law (contractual liability, sudden breach of established business relationships, unfair competition, conflicts between shareholders, misappropriation of corporate assets, corruption, etc.).
She assists companies that wish to set up a compliance program (risk mapping, internal whistleblowing system, code of conduct) and provides awareness training to employees exposed to corruption risks.
She also provides representation in criminal proceedings relating to press offences.
Selected Operation Summary
Litigation and arbitration
Assisted and defended an automotive subcontractor against one of its suppliers that initiated a legal action for breach of established business relationships
Defended corporate legal representatives and officers suddenly terminated in a vexatious manner
Provided legal assistance to an industrialist operating in the petrochemical industry in proceedings for compensation initiated against its co-contractor following a fire that caused a considerable loss of production
Advised and defended a shareholder of a company acting as a commercial agent for principals specialized in the marketing of products sold by garden center chains in an unfair competition action brought against a manager
Assisted a commercial agent against its principal who diverted its customers
Enforced representations & warranties following the discovery of undisclosed liabilities subsequent to the sale of a company operating in the real estate asset management industry
Provided legal assistance to a shareholder of a company specializing in telecom solutions for businesses in connection with a conflict with his shareholders resulting from a difference of views on the future of the company; negotiated an out-of-court settlement for his exit from the company as shareholder and legal representative
Business contracts
Drafted and negotiated general terms of sale and general terms of purchase on behalf of companies operating in the transportation, nuclear and wellness industries
Assisted a company operating in the nuclear industry in connection with the preparation and negotiation of a framework supply agreement with its suppliers
Drafted and negotiated IT contracts: software license agreements, maintenance agreements
Compliance
Reviewed and adapted the internal whistleblowing system of a Swedish investment fund controlling companies in France to ensure compliance with the Law of March 21, 2022 aimed at improving the protection of whistleblowers
Reviewed and adapted the code of conduct of a US parent company with a subsidiary in France to ensure compliance with applicable French legal and regulatory requirements
White collar crime
Defended a public official prosecuted for passive corruption in the context of public procurement contracts
Initiated and managed criminal proceedings against a former president of an association for misappropriation of assets
Defended a manager of a foreign-based company prosecuted for breach of trust for having embezzled and used for personal purposes funds from an investor
Press offences
Provided legal advice and representation in connection with press offenses (complaints, direct summons and defense in defamation and insult lawsuits) involving, among others, journalists, whistleblowers and political figures
Represented and assisted LICRA Rhône Alpes (regional section of the International League against Racism and Anti-Semitism) in trials against defendants prosecuted for racist insults and incitement to racial hatred
Background
Fiducial Legal By Lamy, Lyon, Esq., 2016-2022
Credentials
Lecturer in Business Law, EMLYON (one of France's 4 top business schools)
Lecturer in Press Law, Journalism Section, ISCPA (School of Communication and Journalism), Lyon
Professional Association
Chair of the "Private Business Ethics" sub-committee of the Compliance Committee of the Lyon Bar
Member of the Economy and Business Commission and the Compliance Committee of the Lyon Bar
Education
Post-graduate Degree in International Business Law, Faculty of Law of Dijon, 2013
Post-graduate Degree in Legal and Financial Engineering, Institute of Political Studies of Grenoble, 2012
Languages