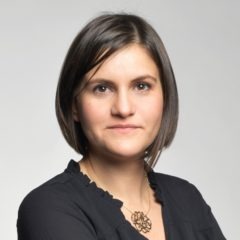 Marion Fleuret
Member of the Lyon Bar
Expertise
Marion specializes in personal law and criminal law.
She advises and defends primarily natural persons in proceedings before the Family Court (divorce, measures for children born out of wedlock, etc.) as well as in inheritance and patrimonial matters.
She also defends minor or adult victims or perpetrators of criminal offenses and assists minors at risk in proceedings before the Juvenile Court.
Selected Operation Summary
Provided legal assistance in inheritance disputes and contentious proceedings for the liquidation of matrimonial properties
Defended and represented individuals in proceedings before the Family Court, including strategic procedural advice in contentious divorce proceedings and divorces by mutual consent
Assisted natural persons in proceedings for change of name, first name and civil/marital status, and adoption proceedings
Provided legal assistance and advice in proceedings before the Guardianship Judge for the placement of a person under judicial supervision (tutelage, curatorship, guardianship, etc.)
Represented and assisted civil parties before criminal courts, including Assize Courts, and identified and assessed losses and harms suffered by such parties
Drafted writs to initiate proceedings before the CIVI (i.e. Commission d'indemnisation des victimes d'infractions pénales – Commission of compensation for victims of criminal offenses) and prepared so-called SARVI files (i.e. applications to the Service d'aide au recouvrement des victimes d'infraction – Collection assistance for victims of offenses)
Devised litigation defense strategies (murder, intentional assault and battery, harassment, etc.) and drafted procedural documents in criminal cases
Provided legal assistance to minors before specialized courts
Background
Soulier Avocats, Counsel, since 2022
Soulier Avocats, Of Counsel, 2018-2022
Marion Fleuret law firm, since 2016-2022
Joëlle Beautemps law firm, 2012-2016
Gabriel Versini-Bullara law firm, internship, 2012
Bravard Avocat law firm, internship, 2011
Education
Post-graduate Degree in Private Law and Criminal Sciences, University Jean-Moulin Lyon 3, 2005-2006
Master's Degree in Legal Careers, University Jean-Moulin Lyon 3, 2004-2005
Languages