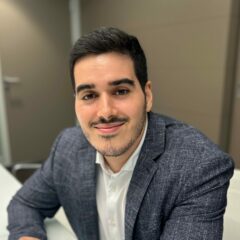 Safi Mbarki
Legal Counsel (Bar admission pending)
Expertise
Safi practices primarily in commercial law, business law and international contracts, and acts both as advisor and litigator.
He assists a clientele comprising French and foreign companies operating in various industries on legal and regulatory issues that arise in connection with their business dealings and operations, and provides representation in domestic and international civil and commercial litigation, as well as in arbitration proceedings.
Safi also graduated in criminal law and sports law and therefore assists individuals and legal entities in any matters likely to arise in connection with these areas of practice.
Selected Operation Summary
Assisted French companies operating in various industries in the drafting of commercial contracts
Advised a French association in connection with the sudden breach of established business relationships
Assisted a machine and equipment manufacturer in a dispute over unfair competition and free riding
Drafted criminal complaints in connection with fraud cases
Represented athletes and sports clubs before various committees of delegated sports federations
Background
Legal Squad, Business Law Department & Sports Law Department, trainee-lawyer, January 2023-June 2023
Assistant at the Sport Competition Department of the French Federation of American Football, September 2021-September 2022
Saint-Avit Yozgat Avocats, April 2018-May 2018 (internship)
Luciani Jean Félix Avocats, March 2018 (internship)
SCP Dumoulin Avocats, January 2018-February 2018 (internship)
Professional Associations
Young ICCA
Chartered Institute of Arbitrators (CIArb)
Paris Baby Arbitration
Other Credentials
American Football coach in France and abroad since 2014
Education
MOOC in Domestic and International Arbitration, University of Montpellier, 2023
Master of Laws Degree in Business and Sports Law (with highest honors), University of Nice, 2022
Graduated from the Institute of Judicial Studies, University Paris 1 Panthéon – Sorbonne, 2021
Master's Degree in Criminal Law and Criminal Sciences, University of Montpellier, 2020
Master's Degree in Private and Judicial Law, University of Arizona Law School, Tucson, Arizona, 2019 (Partnership between University Jean Moulin Lyon 3 and University of Arizona Law School)
University Degree in US law, University Jean Moulin Lyon 3, 2017
Languages