Published on 27 February 2023
Guideline on New Anti-money Laundering Law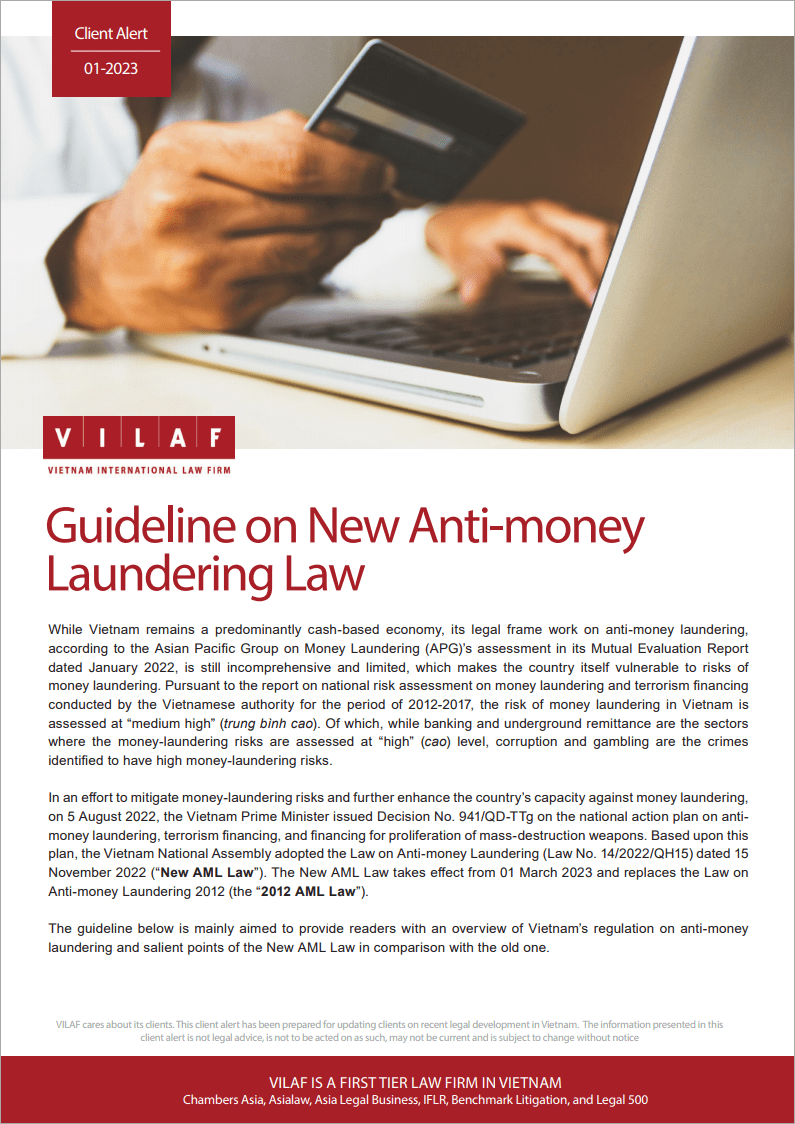 Title: Guideline on New Anti-money Laundering Law
Jurisdiction: Vietnam
Author: Linh D. Nguyen
Law firm: Vilaf
Subject:
While Vietnam remains a predominantly cash-based economy, its legal framework on anti-money laundering, according to the Asian Pacific Group on Money Laundering (APG)'s assessment in its Mutual Evaluation Report dated January 2022, is still incomprehensive and limited, which makes the country itself vulnerable to risks of money laundering. Pursuant to the report on national risk assessment on money laundering and terrorism financing conducted by the Vietnamese authority for the period of 2012-2017, the risk of money laundering in Vietnam is assessed at "medium high" (trung bình cao). Of which, while banking and underground remittance are the sectors where the money-laundering risks are assessed at "high" (cao) level, corruption and gambling are the crimes identified to have high money-laundering risks.
In an effort to mitigate money-laundering risks and further enhance the country's capacity against money laundering, on 5 August 2022, the Vietnam Prime Minister issued Decision No. 941/QD-TTg on the national action plan on anti-money laundering, terrorism financing, and financing for proliferation of mass-destruction weapons. Based upon this plan, the Vietnam National Assembly adopted the Law on Anti-money Laundering (Law No. 14/2022/QH15) dated 15 November 2022 ("New AML Law"). The New AML Law takes effect from 1 March 2023 and replaces the Law on Anti-money Laundering 2012.
The guideline mainly aims to provide readers with an overview of Vietnam's regulation on anti-money laundering and salient points of the New AML Law in comparison with the old one.